Montague "Monty" Iwanaga - Man With A Vision

The Swim Team at Terra Nova began the year that the school opened in 1961. The girls swam in the fall, and the boys in the spring, both belonged to the North Peninsula League.

In 1998 the league and seasons were realigned, the girls season was moved to the spring to run concurrently with the boy's season. The league was renamed the Peninsula Athletic League, in which there are two divisions, Ocean Division and Bay Division. Terra Nova is currently in the Ocean Division. During those years we developed a long tradition of excellence with many league titles to our credit. Since the founding of the Terra Nova swimming program, in 1961, the longest period of success was during the 25 years that Montague "Monty" Iwanaga coached the teams. Diving was part of the teams' success until it faded from the league, and will be making a comeback in the 2002 season.
Water Polo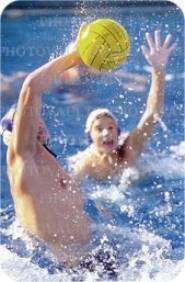 The Water Polo Team was first begun in 1972 and lasted seven years. Polo was not played except in swim practice until its return in 2000. We had tremendous growth in participation from 2000 to 2001, which led to our first wins in the new iteration of the team. Starting again in 2000 with "a rope and a ball" and 10 players, TIGERPOLO grew 350% in the second year, swelling to 35 players, and allowing for the formation of Varsity and a Frosh/Soph Teams. Thanks to the hard word of many volunteers, TIGERPOLO played its first home game ever, with the Frosh/Soph team winning over Carlmont!.
Synchronized Swimming


Synchronized Swimming was a popular feature of the program in the seventies as an entertainment program only. We plan to have Synchronized Swimming return to the line up by 2005, not as entertainment, but as a competitive athletic team. It is in the Olympics, it should be a Terra Nova.

Surfing


The Surf Club is the newest activity in the Aquatic Program. It is a basic tenet of the Aquatics Program that anything to do with water and Terra Nova Students should be considered a part of the TN Aquatics Program! While it will remain a club for the time being, we are investigating other High Schools on the coast of California that host competitive Surfing Teams.